Are you are a member or fan of Motorcycle or Biker Club? Surely, you will see website for membership or fan club websites. On the website, you can get up-to-date news for clubs, share tips or experience or upcoming events,…
For that reason, LexRider is one of the best MotorCycle WordPress Themes 2019. The theme offers a lot of outstanding features for Biker & Motorcycle Clubs.
Firstly, Lex Rider – Best Motorcycle WordPress Theme is a Biker & Motorcycle WordPress Theme for building bikers club, bike shop, riding events, motorbike club, motor store, cycles, auto vehicles, selling riding clothes & accessories, etc. The template contains tons of excellent features you need for a stunning riding site. Come with impressive appearance, Lex Rider will not make you disappointed in attracting your customer's attention to your club.
Highlight Features:
#1. Stunning 03+ Homepage Layouts for Biker & MotorCycle Club Homepages


LexRider – Best Motorcycle WordPress Theme for Biker & Motorcycle Clubs offers 3 pre-built Homepage Layouts which are presented perfectly all necessary information for Biker & Motorcycle Clubs Website. Specially, all demo samples & other pages are imported quickly by 1 Click installation.
#2 Fully Show-off Upcoming Events

By showing all upcoming Events of your website, your fans, members in your club can check & manage all event in the future and arrange their time to join events
#3 Eye-catchy Pricing Page

To develop or maintenance any club stability, member have to pay fee with different benefits when joining in club. Also, admin can create attractive pricing pages for the different packages member. Members can easily check & compare price, services and make their decision quickly with LexRider – Biker Club & Motorcycle WordPress Theme.
#4 Friendly Rider Biker, Motorcycle Club Blog with all Enthusiasm Inspiration

For any website, blog plays an important role of any website. It's the best place to share all latest new, upcoming trends, event or any news, share tips, experience to engage more audiences to website. So your website can increase traffics & sale can be boosted sharply.
#5 Incredibly Shop Page Designed

With Lex Rider Motor Store Clubs, you won't have to worry about how to display items effectively. The template will also assist consumers to find their needed products rapidly with filters of best seller, price, color and size.
#6 All Crew Member Showcase in one Page

Club organization, admin or member are published on the website to increase the truth & loyalty of team & club. It's easy way to contact directly with all admin & managements if having any question or issues.
#7 No Limitation in Upload Image & Videos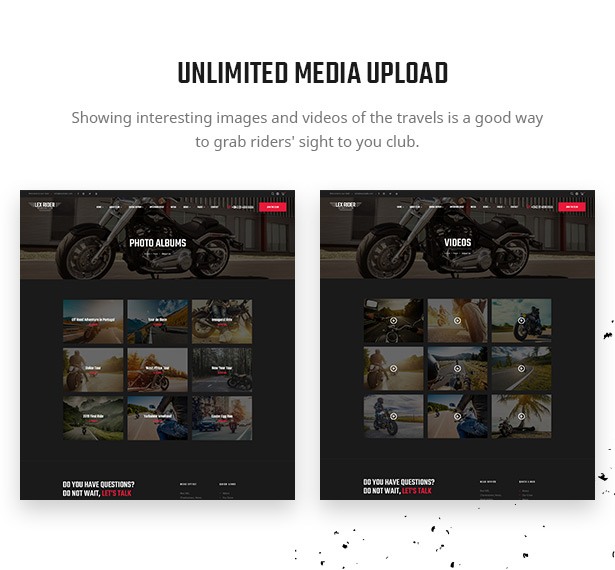 Photos/galleries can be convey the message & increase the abilities of interaction & inspiration to all successfully. The best Biker & Motorcycle WordPress supports amazing pages which is shown off attractively & reality all your photo albums, videos.
#8 Smart Testimonials

The best Biker Club & Motorcycle WordPress Theme is perfect solution to let others show their opinion to your motorcycle club and shop. with inspiring reviews will quickly enhance them to make a register of members.
#9 Adorable Club History Biker/ Motorcycle Club/Team

#10 Powerful Lex Rider MotorCycle Club & Motor Gear store:
Amazing plugins insights: Slider Revolution, Elementor, WooCommerce, One Click Installation, Contact Form 7, Mailchimp, ….
Ease of Customization
Stunning Color Palettes
High Speed Load Optimization
Fully Responsive on Any Devices
Amazing Functional Pages
Attractive Support Team
LexRider is amazing best Motorcyle WordPress theme for your motorcycle & Biker Club. Get LexRider for your Club now!
Other Best WordPress Themes Collections 2019: